2020-2021 Annual Appeal
CHSL Overhead Trolley Wire Needs Rehabilitation
T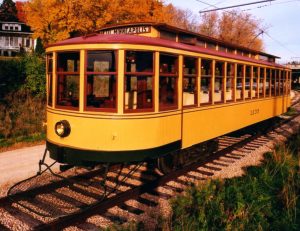 he Como-Harriet Streetcar Line began service 48 years ago. By 1976, trolley wire was
installed to power No. 1300 and our other historic Minnesota streetcars housed at CHSL.
Over the years sporadic maintenance to the
trolley wire was done, with repairs of the
"tree branch falling on the overhead" variety made as necessary. The lack of comprehensive maintenance on the overhead is now evident and requires a professional utility company to make some of the repairs to return the overhead to good condition. The estimated cost for this work is upwards of $50,000!
Here's what needs to be done at CHSL.
Replace about a dozen rotted wood line poles.
Create three "hard points" from which the trolley wire can be re-tensioned.
Re-tension and realign the trolley wire and replace broken overhead fittings.
Add more pull-offs on the curves to make the trolley wheel track the wire smoothly.
ESL Carbarn Improvements
At the Excelsior Streetcar Line we've just completed the project to improve the overhead, and now we need to finish concreting the last area in the cold barn and realign track #3. This work will be expensive and your help in getting this work done will immensely improve the ESL carbarn interior while allowing a third track that can be used for interpretive displays while making the south side of the carbarn presentable
Rebuild Two Motors for TCRT No. 1239
The third project we're raising funds for is the rehab of two additional motors for TCRT No. 1239. We are now building two new trucks for No. 1239, but the budget allowed us to rebuild only two motors which we now have. While this car can operate on only two motors we prefer that it have all four motors as it had for over 40 years. The two additional motors will make the car complete and adequately powered.
Will you help? Thank you!
Remember—your donation is fully deductible under both federal and state income tax law.
P.S. We prefer that you write a check for your donation to the annual appeal and mail it to us at: Minnesota Streetcar Museum, P.O. Box 16509, Minneapolis, MN 55416-0509 along with a note indicating it is for the annual appeal and which project (or general fund) you wish to support.  Doing that means we get your full donation rather than having a percent of it being skimmed off the top by the bank but we're more than happy if it's easier for you to donate by credit card please use the form below.