2019-2020 Annual Appeal
CHSL & ESL Overhead Trolley Wire Needs Rehabilitation
T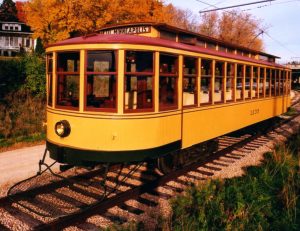 he Como-Harriet Streetcar Line began service 48 years ago. By 1976, trolley wire was
installed to power No. 1300 and our other historic Minnesota streetcars housed at CHSL.
Over the years sporadic maintenance to the
trolley wire was done, with repairs of the
"tree branch falling on the overhead" variety made as necessary. The lack of comprehensive maintenance on the overhead is now evident and requires a professional utility company to make some of the repairs to return the overhead to good condition. The estimated cost for this work is upwards of $50,000!
Here's what needs to be done at CHSL.
Replace about a dozen rotted wood line poles.
Create three "hard points" from which the trolley wire can be re-tensioned.
Re-tension and realign the trolley wire and replace broken overhead fittings.
Add more pull-offs on the curves to make the trolley wheel track the wire smoothly.
Over at the Museum's Excelsior Streetcar Line the problem with the overhead is different. When built in 1999, ESL's overhead trolley wire system was poorly designed. Over the last twenty years maintenance occurred, but not much was done to correct the errors. The trolley wire is below standard height with an insufficient number of pull-offs on the curves. To correct ESL's overhead problems, the following needs to be done.
Some line poles may need to be replaced and back-guys installed on some of them.
Trolley wire slack needs to be taken up and some overhead fittings replaced.
Many pull-offs need to be installed.
Great News!
We have just learned that a grant of $20,000 has been awarded to our Museum by the 20th Century Electric Railway Foundation. However we need an equal amount donated by our members and friends as a match to receive this extremely generous grant.
Will you help? Thank you!
Remember—your donation is fully deductible under both federal and state income tax law.