2018-2019 Annual Appeal
TCRT No. 1239 Mechanical & Truck Work is our Next Goal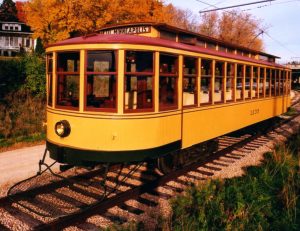 The 1300 truck rebuild project is finished. Many thanks to all for their support for that important project. Our Museum's next major project is the rehabilitation of the mechanical systems, motors and trucks under historic TCRT gate car No. 1239. Here are several reasons your support to our annual appeal is vitally important.
Work on No. 1239's trucks was last done back in 2004. Unfortunately this job was botched by the contractor so we need to replace all eight wheels, four new axles and new gears.
The motors on No. 1239's trucks were built in the late 1890s and received only repair work in the mid-1980s. Two good used motors have been found to replace 1239's motors but they have to be evaluated and totally rehabbed.
The brake system and rods/levers for No. 1239 are worn and need to be extensively repaired.
No. 1239 also needs to have its air compressor and electrical systems inspected and refurbished to ensure reliable and SAFE service for many years to come.
For this project we don't have a major funding source for this expensive work like we did for
No. 1300, so the funds for the work have to come from your donations.
We need to focus our efforts now to raise the funds so we can rebuild 1239's trucks and motors. The project should be completed by the end of 2019 with an estimated cost of $150,000!
We also have two other worthy projects that deserve your support.
We want to continue with improvements to the interior of the unheated portion of the Excelsior carbarn to make it more visitor friendly and to increase interpretive space.
A new tower car needs to be built so we can safely maintain our overhead trolley wire, because the old one at CHSL is too tall to fit in the new speeder bay of the Isaacs carbarn.
Will you help? Thank you!