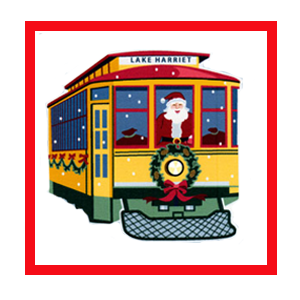 Virtual Holly Trolley
12:30 to 4 PM Saturday and Sunday
November 27 & 28 and December 4 & 5
Free
We're again offering a fun and completely safe way for children to visit with the Jolly Old Elf this season. The Minnesota Streetcar Museum is offering Holly Trolley – Virtual Visit With Santa Claus! The Museum is unable to operate our very popular holiday events this year, but Santa had the days blocked on his schedule. So through the Zoom application, kids will be able to chat with Santa either directly from his home at the North Pole or aboard one of our streetcars (Santa has yet to let us know).
Here's how it works:
First, sign up for a virtual visit time. Go to https://www.picktime.com/virtualhollytrolley.
Choose a day and time slot, then fill in the required information on the next page. When giving your name, please use the name that appears on your Zoom account. You'll receive an automatic email confirming your selected date and time.
Second, if you don't already have a Zoom account, download the application. Go to https://zoom.us. In the upper right corner of the screen, click on the orange Sign Up, It's Free button. When you register, use the name you entered when you selected a date and time. Zoom is a very easy to use application that works on virtually any computer, tablet, or phone. If you're new to Zoom, we suggest you give it a try before your date with Santa.
A few days prior to your visit with Santa, we'll send you the information you'll need to log in on Zoom. About five minutes before your scheduled time, open your Zoom application and go to Santa's North Pole address. You'll be in a waiting room – Santa's helpers will know you're in the queue. If Santa's running a bit late please be patient – he likes to take time with every child. Make sure your Chat feature is activated in case Santa's Social Media Assistant wants to send you a note.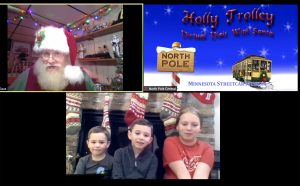 If you select the Gallery View of Zoom, you'll see Santa and your child (children) in separate boxes on the screen at the same time. This is ideal for taking a screen shot as a keepsake. You may want to review the process for taking screen shots on your device.
The Minnesota Streetcar Museums is pleased to provide virtual visits with Santa. We are thankful that we were able to operate again this year, albeit with reduced service and we hope we are able to return to a more normal schedule next year including our special holiday events. Much of our operating income for our all-volunteer organization comes from our special events and we appreciate your support of our mission by making a donation at https://trolleyride.org/donate/
Thanks!