2021-2022 Annual Appeal
The Como–Harriet Streetcar Line began service 50 years ago. We achieved this milestone in no small part due to the generosity of our members. Here are this year's priority projects.
Rebuild the 3
rd
and 4th Motor for
TCRT Gate Car No. 1239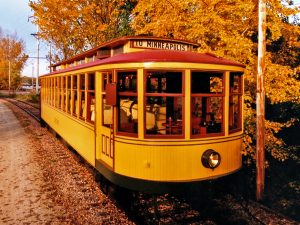 Because of Covid and revenue loss, we had to defer rebuilding motors 3 and 4 for TCRT No. 1239. We are now building two new trucks for No. 1239, but this year's budget allowed us to rebuild only two motors, which are now done. The two additional motors will make the car complete and adequately powered, at a cost of $54,000.
ESL Carbarn Improvements
At the Excelsior Streetcar Line we need to finish concreting the last area of the floor in the cold barn and realign Track 3. This work will cost about $25,000, but it will immensely improve the ESL carbarn interior. It will allow any streetcar to fit through the Track 3 door, eliminate tripping hazards, open up the area for interpretive displays, and provide a safer base for jacking up a car.
Bring hard-wired internet to the Isaacs Carbarn at CHSL
Currently Internet and network access is provided to the Isaacs carbarn through a wireless connection to the Linden Hills station which has a fiber optic wired connection in the Linden Hills station. The wireless signal is unreliable and was damaged by lightning this summer, causing interruptions to the security system, various sensors and control circuitry, the carbarn shop computer, and our historical materials archival cloud server. We want to connect the carbarn and depot with a hard-wired buried connection, but it will cost about $20,000.
Will you help? Thank you!
Remember—your donation is fully deductible under both federal and state income tax law.
P.S. We prefer that you write a check for your donation to the annual appeal and mail it to us at: Minnesota Streetcar Museum, P.O. Box 16509, Minneapolis, MN 55416-0509 along with a note indicating it is for the annual appeal and which project (or general fund) you wish to support.  Doing that means we get your full donation rather than having a percent of it being skimmed off the top by the bank but we're more than happy if it's easier for you to donate by credit card please use the form below.