2022-2023 Annual Appeal
The Minnesota Streetcar Museum began service 51 years ago at Lake Harriet and then in Excelsior in 1998. We achieved these milestones because of the generosity of our members and friends. Here are this year's priority projects.
Extend the length of the Como-Harriet Carbarn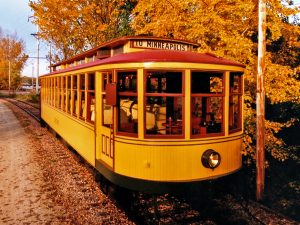 The Como-Harriet Streetcar Line's George K. Isaacs carbarn's unheated "ready barn" can accommodate two TCRT "standard" streetcars but not a third shorter car. We need to extend the ready barn by six feet to allow the museum to move one of the single-truck  streetcars currently at ESL sometime in the not-too-distant future. This will then make room in the ESL carbarn for Fargo &  Moorhead Street Rwy Birney No. 28. No. 28 currently is stored in a remote (and expensive) storage facility because there's no room for it at  Excelsior. The plan is to extend the CHSL ready barnby about six feet and make other improvements to the carbarn complex, such as constructing a new "pre-fab" building under the Linden Hills Blvd bridge to increase storage space. The purpose for the additional storage
will allow us to remove storage shelves and streetcar parts bins from the current unheated
portion of the carbarn that prohibits movement in the rear of the "ready barn."
ESL Shop Heater Replacement
At the Excelsior Streetcar Line we need to replace the 25-year-old inefficient heaters
for the heated shop portion of the carbarn. Both heaters broke down in early 2022 with temporary repairs made to them at that time. It's clear that the old machines have aged and need replacing. The contractor that made the repairs recommended that we install smaller but more efficient heaters for the carbarn.
Replace the Roof on the Excelsior Carbarn

The Excelsior carbarn building was constructedin 1997. While the roof on the carbarn is only 25 years old its apparent that the roof shingles need to be replaced.
Will you help? Thank you!
Remember—your donation is fully deductible under both federal and state income tax law.
P.S. We prefer that you write a check for your donation to the annual appeal and mail it to us at: Minnesota Streetcar Museum, P.O. Box 16509, Minneapolis, MN 55416-0509 along with a note indicating it is for the annual appeal and which project (or general fund) you wish to support.  Doing that means we get your full donation rather than having 2.9% of it being skimmed off the top by the bank but we're more than happy if it's easier for you to donate by credit card please use the form below.