Welcome to the Como-Harriet Streetcar Line! Step back to the days when the streetcar was king – when Twin Citians went to work, to school, and to play by trolley!
Visit the displays in our station, shop our unique gifts and souvenirs, then take a nostalgic ride on one of our historic streetcars along a scenic route between the lakes. Your Motorman will provide interesting information about the car and Minnesota streetcar history. Learn more about the ride on our FAQ page.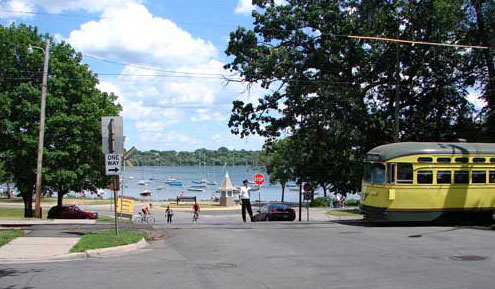 A visit to the Como-Harriet Streetcar Line offers more than just a streetcar ride. After your trip back in time, enjoy the beauty of Lake Harriet, part of Minneapolis' famed Chain of Lakes. You'll find lakeside refreshments, picnic grounds, ducks to feed, concerts and performances of all kinds, boats and canoes for rent, a playground, the Roberts Bird Sanctuary, the Rose and Rock Gardens, and a series of bicycle and walking trails.
You can also eat, drink, and shop in "downtown" Linden Hills – a neighborhood created by the streetcar. Just two blocks from the Linden Hills Station, you'll find interesting shops including Creative Kidstuff, Heartfelt and Wild Rumpus Books, plus refreshments at Great Harvest Bakery, Sebastian Joe's ice cream, and Coffee & Tea, Ltd. Or sample one of the many fine dining restaurants.
Take a streetcar ride and spend the day at the lake.
Location
The Como-Harriet Streetcar Line is located southwest of downtown Minneapolis. It operates between Lake Harriet and Bde Maka Ska (Lake Calhoun). The Linden Hills Station is at Queen Ave. So. and W. 42nd St. You can also board at the Lake Calhoun platform, on Richfield Road south of W. 36th St. From Interstate 35-W, use the W. 46th St. exit. Go west to E. Lake Harriet Pkwy. Follow the  Parkway around the Lake to W. 42nd St. Park in the pay lot to your left ($1 per vehicle) or cross  the streetcar tracks for on-street parking.
GPS Location: 4200 Queen Avenue, South, Minneapolis, MN 55410
GPS Coordinates: 44.9273574, -93.3098279 or N44° 55.6414′, W093° 18.5897′
Street Address: 2330 West 42nd Street, Minneapolis, MN 55410
Public Transit
You can visit the Como-Harriet Streetcar Line by public transit. All Como-Harriet streetcars connect with Metro Transit route 6 at our Richfield Road platform. The Linden Hills Station is located two blocks east of the West 42nd Street bus stop of Routes 6C, 6E, and 6K on Sheridan Avenue South. Route 6 connects with the Hiawatha Corridor (Blue Line) and Central Corridor (Green Line) Light Rail lines in downtown Minneapolis at Fifth and Hennepin. For bus fares and schedules and other information, please click here to reach Metro Transit's website.
Accessibility
The streetcars of the Como-Harriet and Excelsior Streetcar Lines are not wheelchair accessible. As historic vehicles that could not be made wheelchair accessible without damaging their historic integrity, they are exempt from the Americans with Disabilities Act. Our crews are available to assist passengers with disabilities in boarding our streetcars to the extent possible.
The Linden Hills Station on the Como-Harriet Line is wheelchair accessible.
Persons with other disabilities are encouraged to call in advance of their visit with questions about accessibility.