Then:
Motorettes were a vital part of the workforce of Twin City Lines during World War II. These women kept the streetcars operating in a time when hundreds of men left their jobs at Twin City Lines to serve overseas. Public transportation was a vital industry on the home front that facilitated the success of so many other industries directly serving the war effort. Thus, the contribution of the motorettes, and the millions of women who made their way into the workforce during the war, cannot (and should not) be understated!
The first motorettes were hired in 1943, with many of them filling the jobs that their husbands left behind to serve in the war. Ultimately, Twin City Lines hired 381 motorettes (and 126 conductorettes) over the course of the war, with many staying in their positions for an average of about 1 year. Some of the motorettes and conductorettes were hired to fill the positions vacated by their husbands, when those men went to serve overseas. Their numbers dropped significantly after the war, due to men returning home, and from streetcar crew staffing cuts in 1948. Staffing cuts were based on the seniority of the employee, so the lower seniority of the motorettes meant that many were cut loose from the company when layoffs arrived. The last motorette was Ruby Peterson, who retired in 1980, and had shifted to driving buses prior to the abandonment of streetcars in 1954. After the motorettes, women were not hired again until the 1970s, when Twin City Lines had been transformed into Metro Transit.
On the right is motorette Helen Murphy with her streetcar in Saint Paul in 1946.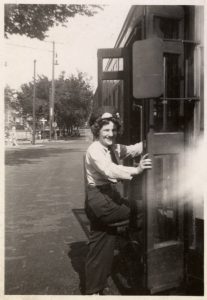 Below is motorette Ruth Shepard standing at the rear gates of a streetcar in 1946.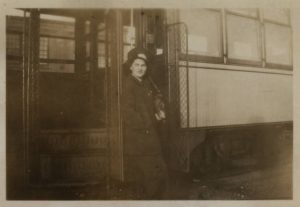 Now:
Motorettes are not just a part of our past, but are also a part of the museum's current operation! Both our Como-Harriet and Excelsior streetcar lines have recently had motorette crews.
On the right is an Excelsior Streetcar Line motorette crew standing in front of Duluth Street Railway 265 in June 2019.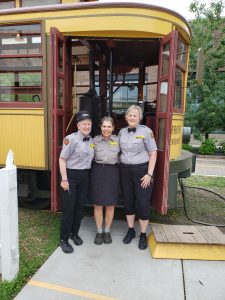 Below is a Como-Harriet Streetcar Line motorette crew standing at the rear doors of Twin City Lines 1300 in September 2019 (photo credit: Maggie O'Connor).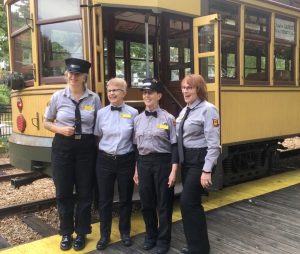 The museum also hosted a motorette's reunion, in 1993, to mark the 50th Anniversary of the hiring of the first motorette by Twin City Lines! A write-up of the event, as well as a history of the motorettes, was detailed in the Fall 1993 issue of the museum's then newsletter, the Minnegazette. A PDF of that newsletter issue can be accessed here: Minnegazette Fall 1993 – Motorettes